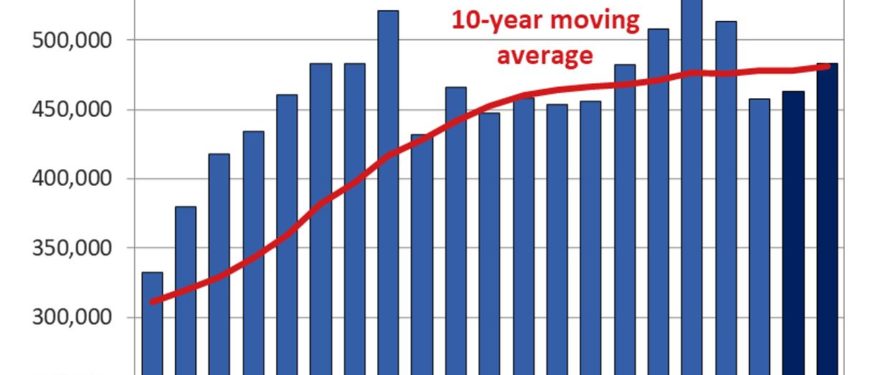 CREA Updates Resale Housing Market Forecast
Ottawa, ON, June 14, 2019 – The Canadian Real Estate Association (CREA) has updated its forecast for home sales activity via the Multiple Listing Service® (MLS®) Systems of Canadian real estate boards and associations in 2019 and 2020.
Many of the economic fundamentals that support housing activity remain strong outside of the Prairies as well as Newfoundland and Labrador. Following the release of CREA's previous forecast in March, population and employment growth has remained strong and the unemployment rate has fallen further. Additionally, the Bank of Canada is widely expected to not raise interest rates over the rest of the year.
Budget 2019 also raised the maximum individual withdrawal limit under the Home Buyers' Plan (HBP) from $25,000 to $35,000 and introduced the First Time Homebuyer Incentive, a shared equity program whereby the federal government finances a portion of a home purchase in exchange for an equity share in the home's value. The increased HBP withdrawal limit took effect in late March, while the First Time Homebuyer Incentive is slated to launch in September.
These factors are expected to support to the beginnings of a recovery in home sales over the second half of 2019 after starting this year on a weak footing. Nonetheless, the overall level of sales is expected to remain well below where it was in recent years, as successive policy changes  – most notably the implementation of the B-20 stress test – continue to limit access to mortgage financing and dampen housing market sentiment. This is particularly the case in pricier areas where younger buyers have had little choice but to borrow more to get into the market.
National home sales are now projected to edge up 1.2% to 463,000 units in 2019. CREA's previous forecast estimated a decline of 1.6% this year. This would still leave annual sales below the 10-year average and a far cry from the annual record set in 2016, when almost 540,000 homes traded hands. On a per capita basis, the forecast for 2019 would remain effectively tied with 2018 for the weakest year since 2001.
British Columbia is the only province expected to weigh materially on national figures in 2019, with a decline of 13.3% compared to 2018, marking a small upward revision from the previously forecast decline of 14.9%. Other revisions from the previous forecast for sales in 2019 were also upward, with Alberta moving from a 5.6% decline to a 0.9% decline, and Ontario's gain upgraded from 0.9% previously to 3.9%.
Quebec and New Brunswick are still forecast to see the biggest sales gains in percentage terms in 2019 (+7.7% and +10.6%, respectively), with both provinces on track to set new annual records. Sales in Saskatchewan and Newfoundland and Labrador are forecast to improve by almost 5%, albeit from the lowest levels in more than a decade recorded last year. Meanwhile, activity in Manitoba and Nova Scotia is forecast to rise between 3.5% and 4.5% to near-record annual levels.
The national average price is still projected to stabilize (-0.6%) at around $485,000 in 2019 following the 4.1% drop recorded in 2018, which was the largest in almost 25 years. This reflects a stark and growing split between Eastern and Western regions. In line with the balance between supply and demand across the country, average prices are forecast to fall in 2019 in British Columbia, Alberta, Saskatchewan, and rise in Ontario, Quebec and the Maritimes. The average price is also expected to fall for the fifth consecutive year in Newfoundland and Labrador.
Sales are forecast to continue to improve in 2020. Absent the weak start experienced in 2019, national home sales are forecast to rise 4.4% to 483,200 units as interest rates remain near current levels and potential home buyers continue to adjust and adapt to the assortment of recent policy changes. Almost all provinces are forecast to see more sales in 2020 compared to 2019, with gains ranging from 1% to 6%.
That said, the big picture is that sales are expected to remain historically weak in British Columbia, Alberta, Saskatchewan and Newfoundland and Labrador, historically strong in Quebec, New Brunswick, Manitoba and Nova Scotia, and come in close to the 10-year average in Ontario.
The national average price is forecast to edge up by 0.9% to around $490,000 in 2020. Average price trends across Canada in 2020 are generally expected to be more moderate versions of those in 2019, with small declines in British Columbia, Alberta, Saskatchewan and Newfoundland and Labrador, and modest gains in all provinces from Manitoba through the Maritimes.
– 30 –
About The Canadian Real Estate Association
The Canadian Real Estate Association (CREA) is one of Canada's largest single-industry trade associations. CREA works on behalf of more than 130,000 REALTORS® who contribute to the economic and social well-being of communities across Canada. Together they advocate for property owners, buyers and sellers.
For more information, please contact:
Pierre Leduc, Media Relations
The Canadian Real Estate Association
Tel.: 613-237-7111 or 613-884-1460
E-mail: pleduc@crea.ca­
https://joshmiko.ca/wp-content/uploads/2019/06/quarterly-forecasts.jpg
375
890
EstateVue
https://joshmiko.ca/wp-content/uploads/2022/03/josh-miko-new-logo-real-estate-west-kelowna-final2022.png
EstateVue
2019-06-14 05:59:06
2019-06-14 05:59:06
Quarterly Forecasts